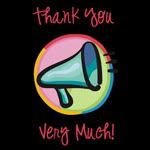 Well.....it's Thursday, and that means it's time for Thank You Very Much! Read on for my whining and complaining, and head on over to Kmama's Blog
The Daily Dribbles
to see what others have to be thankful for!
To the weather. I love love
love
it when it's 9 degrees out, super windy and very snowy. Plus, when this happens about 15 minutes after it's been raining it's even better because EVERYTHING has a thick coat of ice on it. Thank you very much!
To my dishwasher. It was super cool of you to back up last night and send a bunch of water down into the basement. Thank you very much!
On a related note: To our city water. It's sweet that you are so filled with minerals that you cause things like dishwasher backups. Thank you very much!
To television. For making my kids think that the more
stuff
they have, the better off they'll be. Thank you very much!
To the calendar. Today you pointed out that it's the 10th of December, which means I have 13 days left until all my Christmas shopping needs to be done. And today you made me remember that I literally have 3 gifts purchased. Thank you very much.