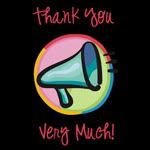 It's Thursday, and that means it's time for Thank You Very Much! For other Thank You Very Much's, visit
KMama's Blog
and see what other people are thankful* for.
*By thankful, I of course mean highly annoyed by someone or something and in need of complaining publicly and sarcastically about it.
So, Thank you very much to....
....the person who gave Alexandra her 2nd cold in less than a month. And an extra special pat on the back to you because both of the colds she's had in the last month have lasted for about 10 days. Just to do the math for you: that's 20 days of cold in less than 30 days.
....self evaluation time for sneaking up on me at work. Every year, I
know
it's coming, and every year, I
still
put it off until the last minute.
....winter. You're on your way....you might even arrive tonight while I am sleeping. I love to be cold and uncomfortable for months on end, so Yay!
....to the person at work who can't get anything done that I need him/her to do because he/she has "more important things to worry about". Because you know, he/she IS the only person at work who's busy, and he/she IS the only person at work who has important things to get done.
....the person who was driving in front of me on the way to work today. I am glad that you were so cautious and only drove about 45 mph - it was nice to not be able to pass you because of the non stop oncoming traffic.
Thank you everyone!